1/9
Glori
Quick Details
Payment:
PayPal,Western Union,T/T
Supply Ability:
2000 piece per month
Whether you're just starting a new business or giving your patio space a much needed face lift, this outdoor chair is a brilliant option. This stackable chair will give an up to date, flattering appearance to your business or home décor.
Physical Ergonomic Back and Armrest: In trying to make this chair at high quality, our chairs come with curve seats and integrated backrests and armrest to fit your hip, back and arms better in accordance with the design concept of chairs, and to effectively relieve the fatigue of sitting for a long time.
Molded in one with quality material, the chair shells feature high impact resistance and good toughness for years to come. What supports the chair seat is premium material legs. The use of premium material makes the whole chair more environmentally friendly.
ersatile Usage: Retro and fashionable appearance and functional use. Colan sturdy chairs can be used in dining room, guest room, living room, kitchen room, lounge home,extra room, etc.
Simple assembling, hardware and manual included,easy installation and save your precious time.
Excellent Customer Service: worry-free quality assurance&friendly customer support,e-mail us when you need help.
Curved Aluminum Triple Slat Back
This chair features a curved slat style back to keep you comfortable.
Steel Frame Finish with Integrated Arms
The premium frame is designed for all-weather use making it a great option for indoor and outdoor settings. Its integrated arms add comfort to users.
Floor Protector Plastic Glides
The protective plastic feet prevent damage to flooring.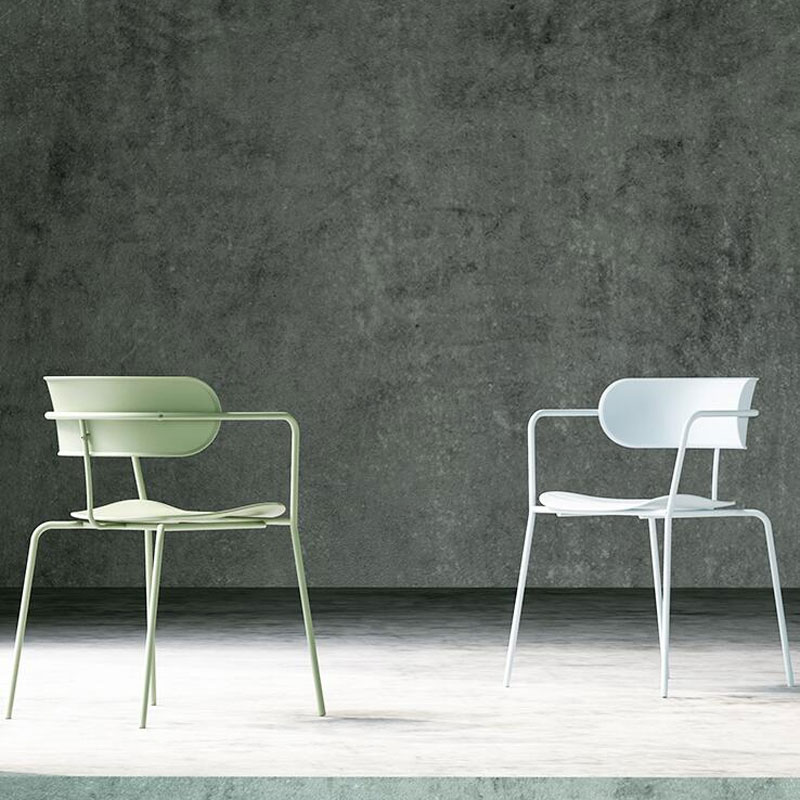 Glori chair is a new design that's with light visual and look. The matching leg finish with the chair plastic color adds elegance to this design. It could be widely used for dining area or pantry area. Glori also got another version with upholstery back and seat which sits more soft. The strength of this collection is its simplicity and directness, to recall a timeless shape.
In addition to maintaining daily cleanliness in the maintenance of plastic dining chairs, due to the particularity of plastic dining chairs, it is necessary to avoid contact with items with strong acid and alkali, as well as gasoline and alcohol, which will cause corrosion to plastics. , In severe cases, the dining chair will be bent and deformed.
The scrapping period is in advance. When cleaning the dining chair of this special material, you can use washing powder, but do not use alkaline soap, laundry detergent, etc.
After cleaning, it is also necessary to dry and ventilate. In addition, try to avoid hot water contacting the plastic, otherwise the plastic will harden, become brittle, melt or expand.
For more information about chairs, please kindly contact us at any time, we are glad to answer for you. If you want to order in quantity, hope that we will be your best choice.
Colan is established to be a Chinese design brand for furniture which brings beautiful and quality products to people all over the world. We believe beauty is productivity. As a design led furniture company, we work with designers home and abroad. From the day established, we also spend a lot of time on quality and cost control, to ensure our clients get the most beautiful products with good quality but at a more accessible price.
As the leader for standing desk in Chinese market, all the products are fabricated with tech equipment and experienced workers, to ensure that our clients always receive well-refined and lovingly-made products.
By exporting our standing desk to 25 countries, our desk has been tested and certified to meet the high standards set out by BIFMA/UL/EMC/CUS/GECA